I am a Top-hat.

I'm a bit of a jack-of-all-trades; creative, in a stylistic sort of way, a little vain, a little dark, perhaps a little archaic. I get on alright with people, but I can take them or leave them. What Sort of Hat Are You?

Mmm, I am Lemon Flavoured.

I am bitter and twisted. Expect from me acerbic humour and sharp commentary. While I may seem nasty at first, I'm actually quite good company if I like you, so long as you don't mind a bit of cutting to the chase. What Flavour Are You?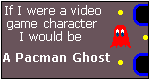 I am a Pacman Ghost.

I like to hang around with friends, chatting, dancing, all that sort of thing. We don't appreciate outsiders, and do our best to discourage others approaching us. I enjoy occasionally wandering around randomly, and often find that when I do so, I get to where I wanted to be. What Video Game Character Are You?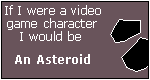 I am an Asteroid.

I am a drifter. I go where life leads, which makes me usually a very calm and content sort of person. That or thoroughly apathetic. Usually I keep on doing whatever I'm doing, and it takes something special to make me change my mind. What Video Game Character Are You?

I'm not really militant. I could be cool if I tried, but I usually don't try.
what's your cowboy bebop theme song?